Portland, Oregon is my favorite. If you don't know already and you probably don't since I haven't mention this on my blog (I know this for a fact. I just read all 68 posts of mine.) I don't want to move out of Portland ever. In other words I love Portland way to much to move to another city... I promise you I am not crazy for making such a big decision at such a young age.

Things I like about Portland:
-There is always something to do. Seriously, there is always something happening in Portland. From things like the blues festival to random events.
-The skyscrapers. They are amazing and there are so many of them. End of story.
-Trees and nature. I am pretty sure that Portland is the most green city in the United States... I could be wrong so don't quote me on this. Anyways!, naturally we have a lot of places to go hiking and trees are everywhere.
-The weather. Most people I know hate Portland weather but I like it. I like that it rains a lot in Portland. Funny thing is Portland is thought to be one of the cities that gets the most rain but in reality we aren't even on the top ten cites that rain the most.
-People! Can't forget the people of Portland. I love the people of Portland; they bring the whole city together. I like the people here because most of them are super friendly and are also pretty interesting.
-The city is easy to get around... it may not seem like it at first but after a while of living here you learn the layout.

Things I like to do in Portland:
-Dragon boat! Did you guess this? I love going out with my team and paddling in the Willamette for about an hour or two.
-Hiking. I use not like hiking and walking around Portland due to my dad who took my sister and me hiking every time we saw him but I have to say I kind of miss that. Got to get some more hiking in.
-Taking photos. Another obvious thing I like doing in Portland.
-Explore... like this isn't obvious but I am going to say it anyways.


Places you have to go to in Portland:
Pioneer Square
-Pioneer Courthouse Square. This is just a lovely place to take a break.
Willamette River
-The Willamette or the Water front. Great place for picture talking and walking around
Google didn't have a good picture of my favorite place to eat but this is the "walk way" it is on.
-Little River cafe. I go here pretty often when my sister and me are in the area.
The zoo
Zoo lights... cool, right?
-The Zoo! You just have to go here. I just remembered they have zoo lights in December and I got excited. If you don't know what zoo lights is it is when the zoo decorates everything in Christmas lights.
This is the view from the mansion...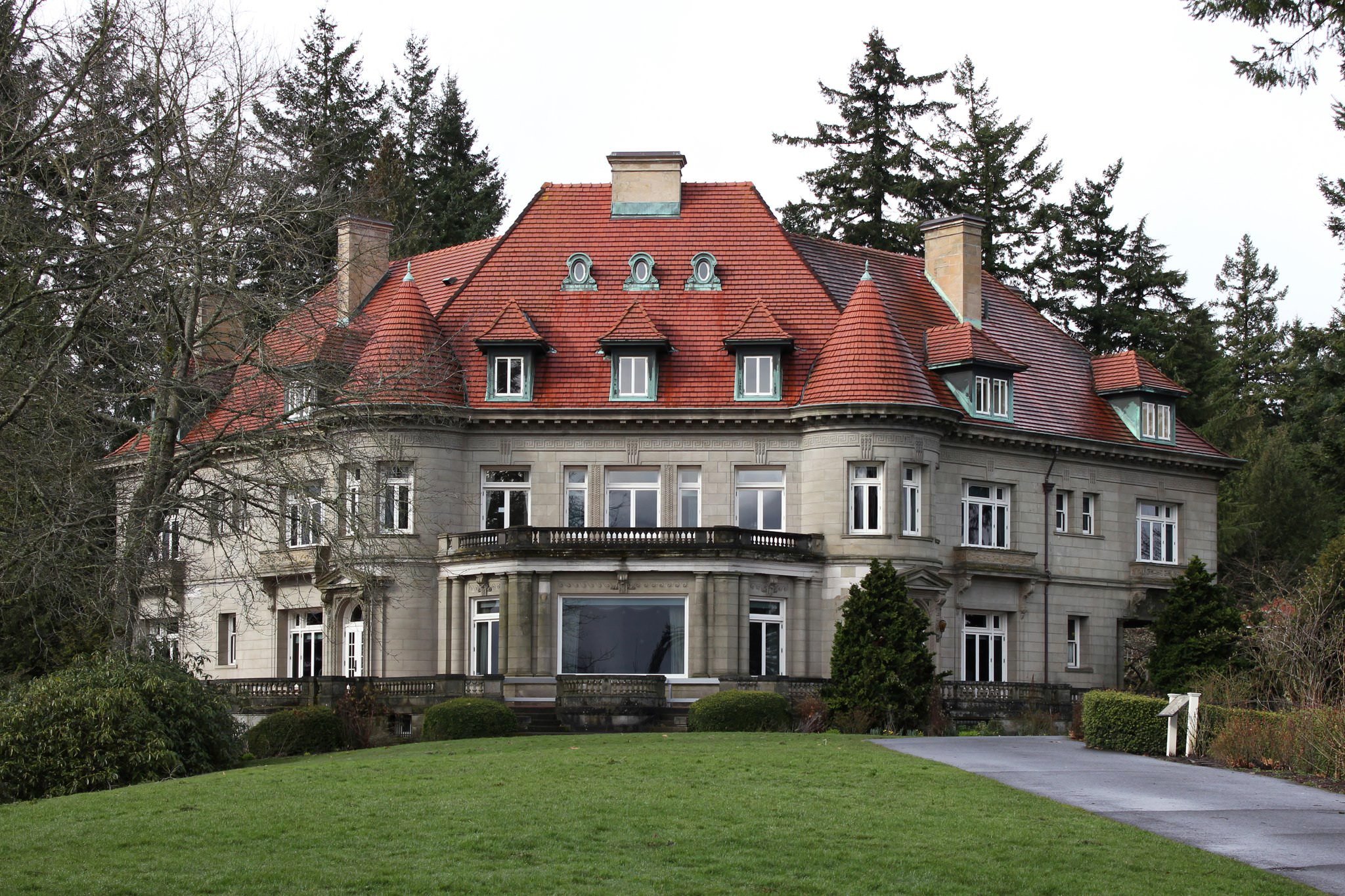 ...And this is the mansion
-Pittock Mansion. The view from here is pretty great and you can hike up to it from the zoo.
*Disclaimer- All the photos used above are not mine.*
These are just a few places to go and a few things I enjoy doing... If I mentioned everything this would be a really long post and this is already getting kinda long but anyways there is a quick look into Portland and maybe now you might see why I made the decision to stay in the area. Oh! One more thing I'll mention that is nice about living in Portland is that from Portland you are only an hour and a half away from the beach! Isn't that a great thing? I think it is. I just love Portland.
Have a good day!,
Vanessa